Sometimes 662 horsepower is not enough, and in the case of a special Swedish customer JDM Engineering was up to the task of making an absolute monster above and beyond what this GT500 dreamed of leaving the factory with.
To start, we completely tore this 5.8 down and built it the JDM way, with herculean Manley rods, and diamond pistons and honed the stock liners .001" to retain rigidity of the PWTA technology. We then installed our in house machined and massaged O-ringed oil pump with billet internals. The heads were completely stripped, decked and had trick 5 angle valves job cut for increased flow and better use of the area of the valves.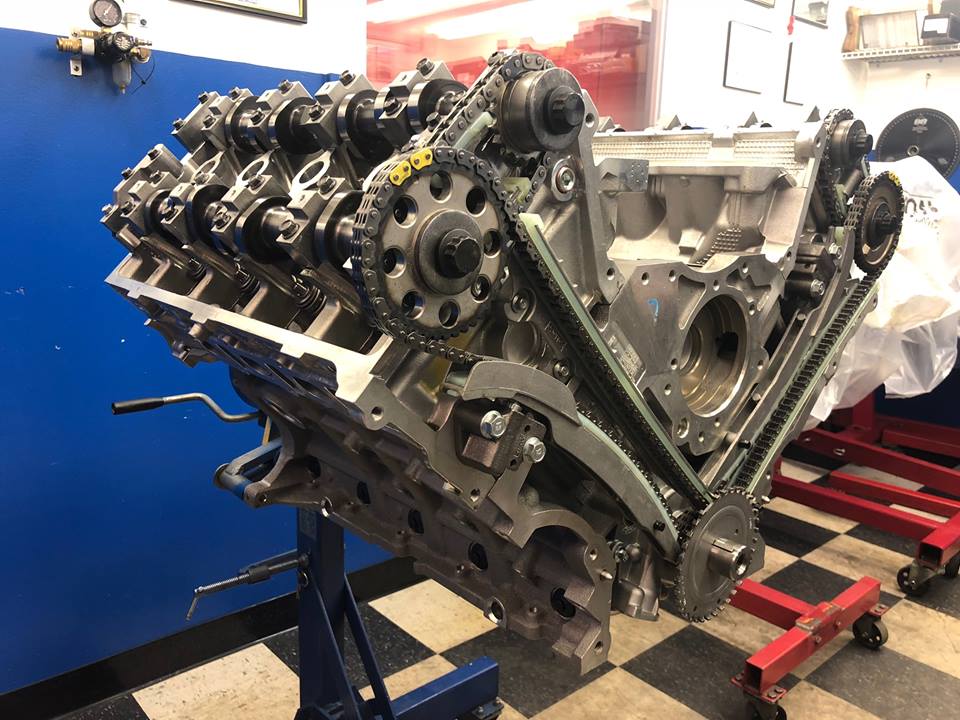 Naturally we installed our JDM super stock cams and upgraded valve springs with ARP cam bolts, and all new valve train parts such as lash adjusters, followers, retainers, locks, seals, and valves assuring longevity in this valve train at all capable RPMs. Completing the highly efficient induction system required a set of Kooks large primary long tube headers with a set of green cats, paring together emissions compliance and optimal power production. Pictured below is our resident engine builder Brian Wagner affixing the passenger side valve cover to the engine on final assembly and a side shot of the engine revealing the borderline pornographic beauty of the Kooks long tube headers.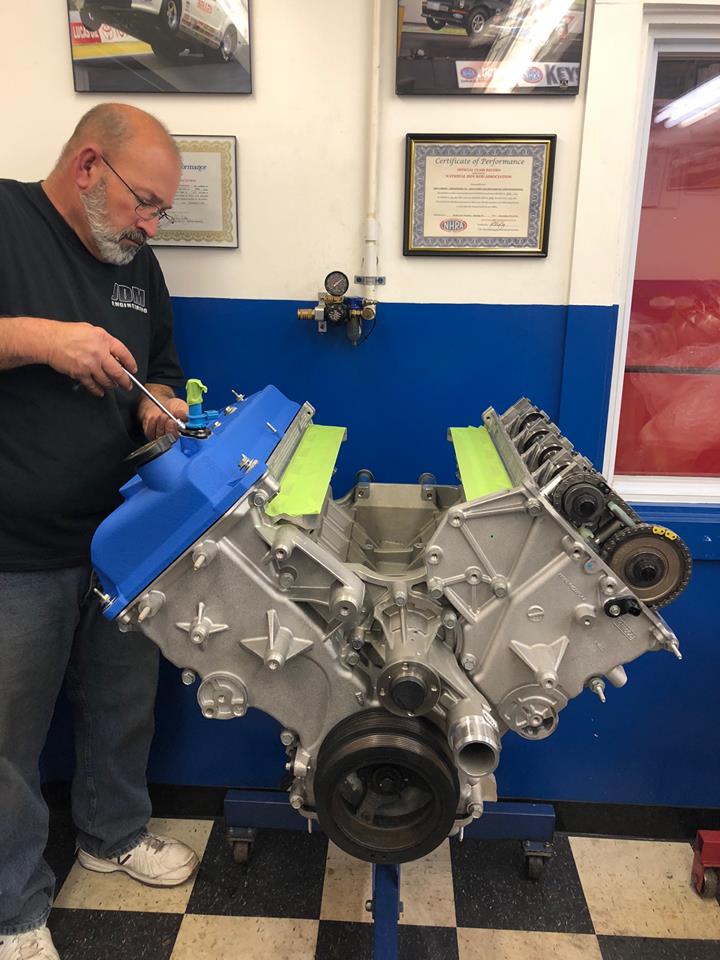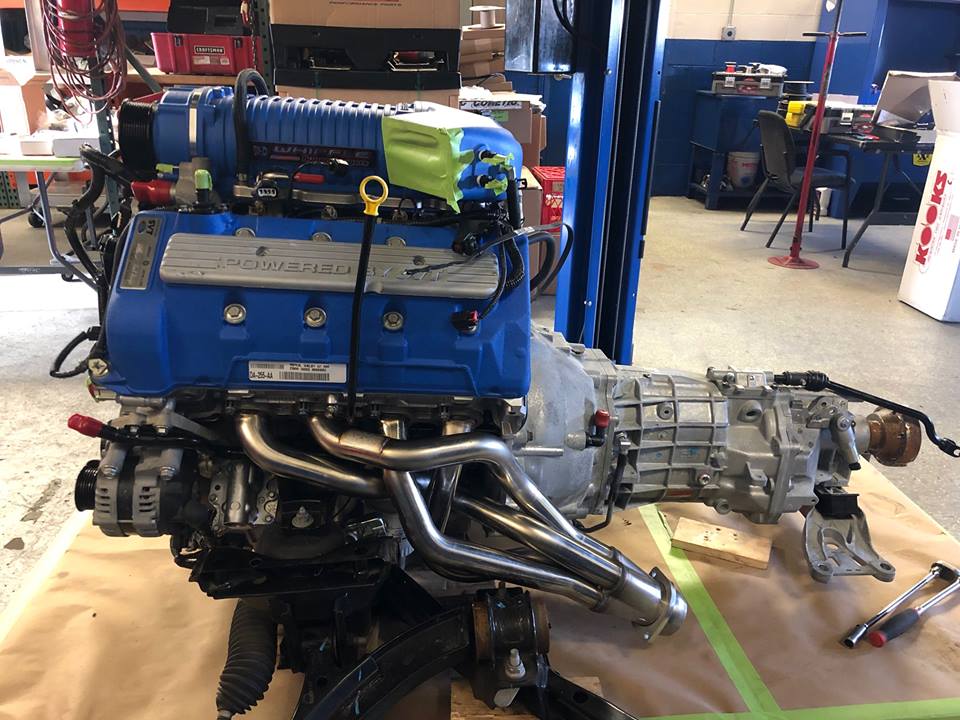 Topping this stellar engine combination was a 4.0 Liter Whipple supercharger designed to blow past 4 digit horsepower numbers at the tire with ease. We love the Crusher inlet for its lack of restriction regardless of airflow passed through the stone dead reliable Ford Racing Twin 65 throttle body and gargantuan JLT Superbig 148 millimeter air induction kit.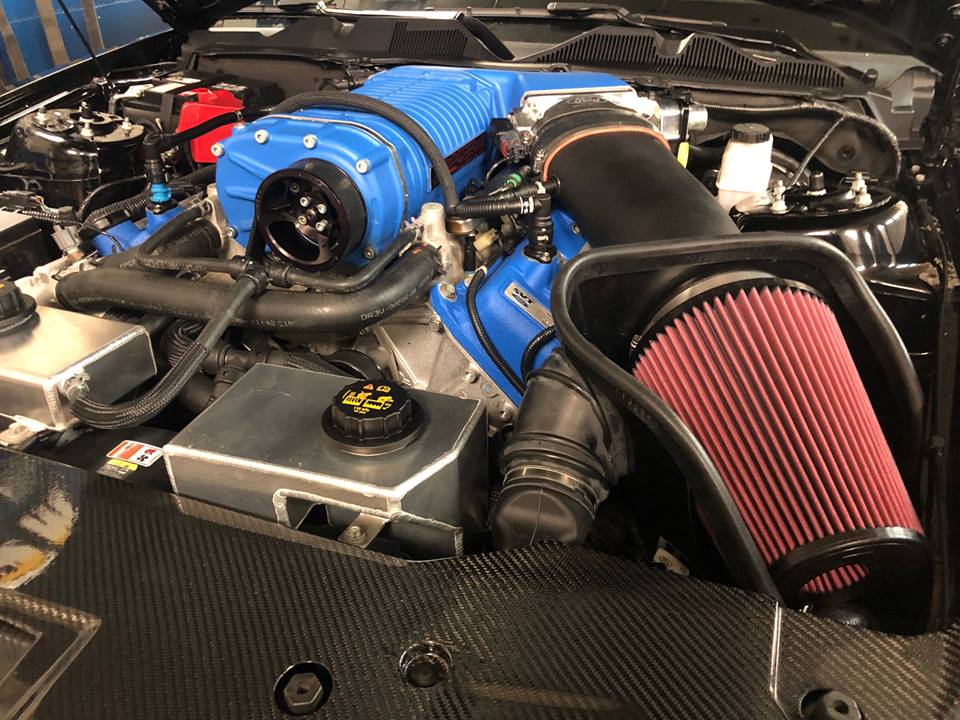 To provide fuel to the fire, a set of 80 pound an hour Ford injectors were installed and we utilized the potential of the twin fuel pumps adorned from the factory, to ensure ample fuel flow while maintaining docile street behavior. To have any hope of not instantly roasting the rear tires, meaty BMR lower control arm relocation brackets were installed. It was then time for our chassis dyno.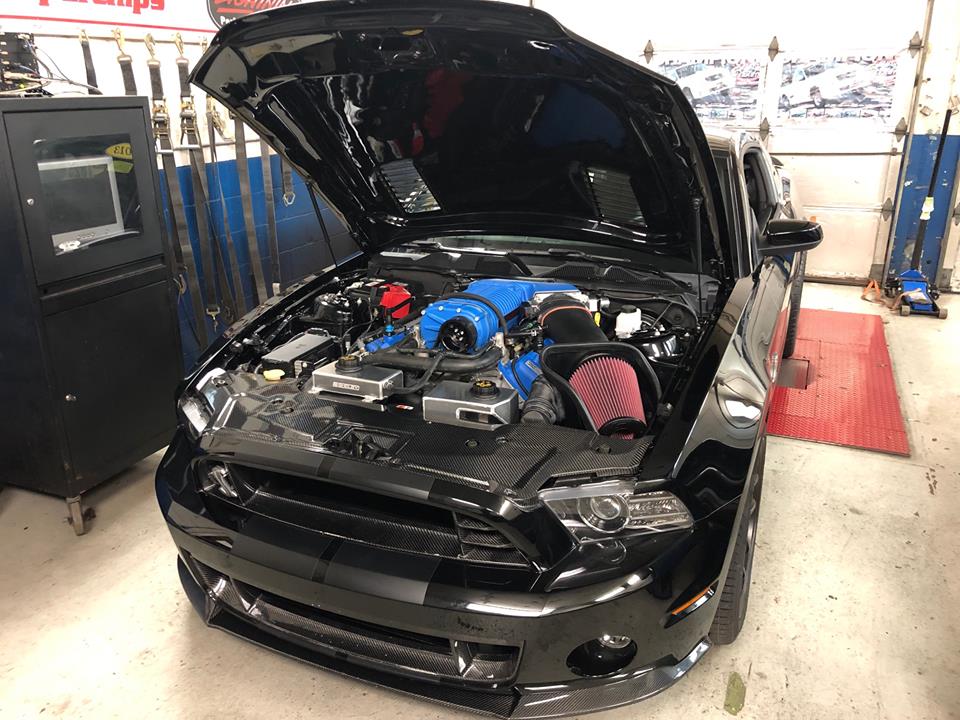 On a break in tune on the dyno, this monster made 810 Horsepower at the tire with 10 degrees of timing, with 16 pounds of boost. Splashing a hair of 100 octane and adding 2 degrees of timing, the car jumped up nearly 50 horsepower at the tire to a total of 869! With the 4.0 Whipple capable of 14 pounds more boost, and the car gaining 25 horsepower per degree of timing, the induction system on this car is ready to make over 1000 at the tire with a pulley swap, tune, and some fuel system upgrades. The customer was overjoyed with the power level, and we can't wait for it to blow past some Volvos and Saabs in Sweden and let Scandinavia know how JDM Engineering builds GT500s.